Bertie's Stomepage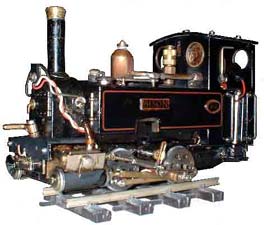 Bison, een Mamod met wat extra's, bouwjaar 1986, en de Regner 99.211, bouwjaar 2003. Dan de Aster JNR 8550, bouwjaar 1976. Tot slotte het grotere werk, de LBSC Virginia voor 3-1/2 inch spoor, bouwjaar 1990.

Bison, a Mamod with some additions, build in 1986, and a Regner 99.211, build in 2003. Then the Aster JNR 8550, build in 1976. Finally something larger, the LBSC Virginia build for 3-1/2 inch track, build in 1990.

Bison, eine Mamod mit einige Änderungen, Jahrgang 1986, und die Regner 99.211, Jahrgang 2003. Dann eine Aster JNR 8550, Jahrgang 1976. Am ende eine LBSC Virginia für 3-1/2 Zoll aus dem Jahre 1990.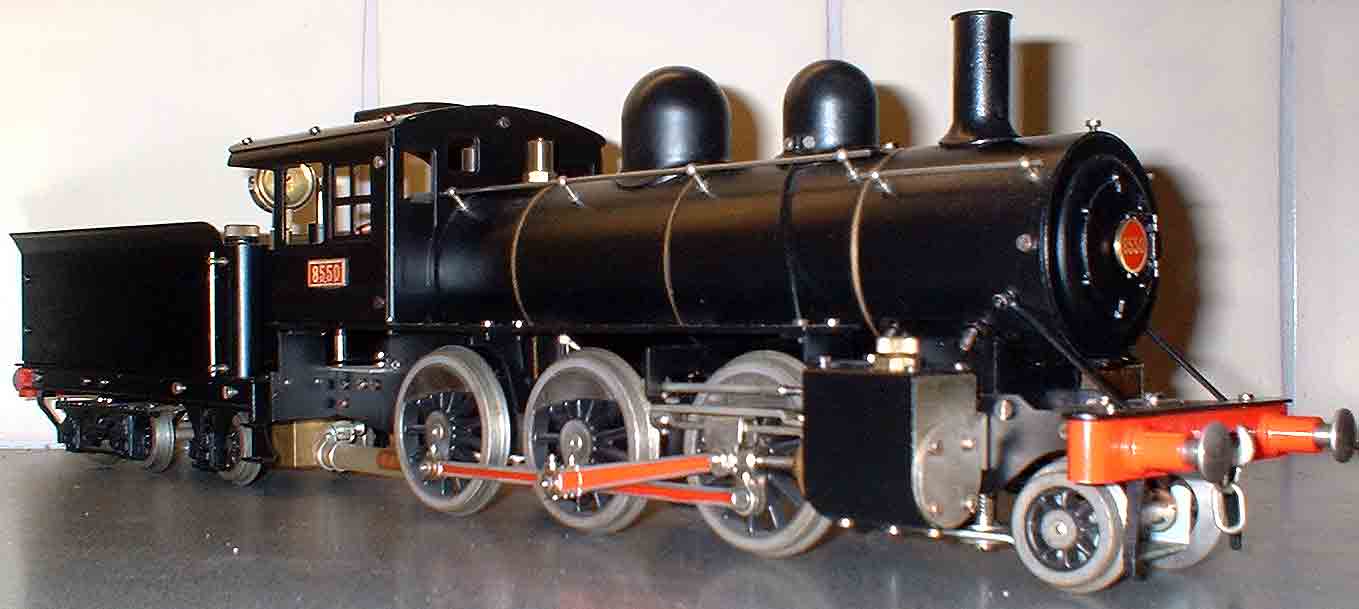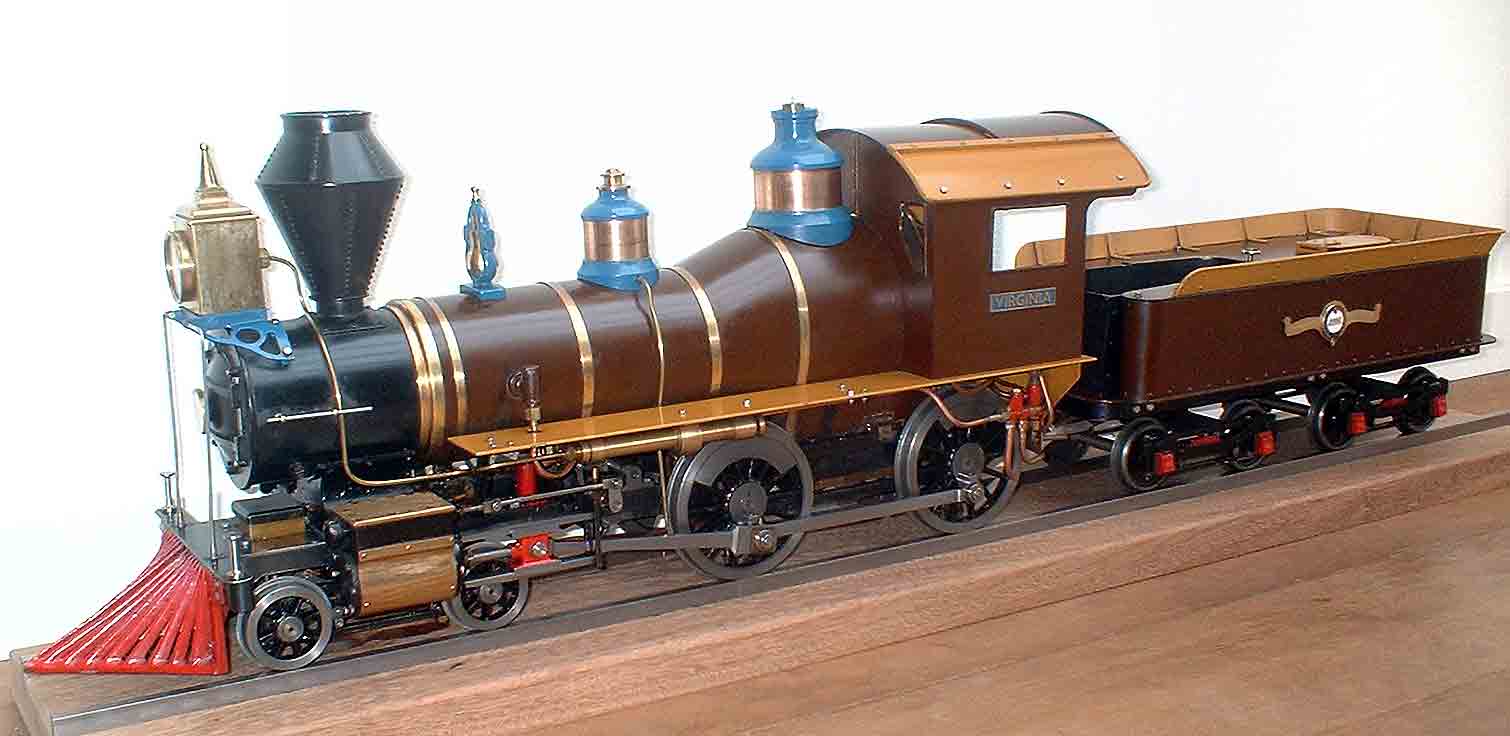 Herzlichem willkommen auf meiner Stomepage. Dieser Name umfaßt die Wörter "home" und "stome" und ausgesprochen wie die Engländer das machen. Stome ist kein wirkliches Wort (bis jetzt) aber man spricht es ähnlich aus wie das Niederländisches Wort für "Dampf" und buchstabiert wie "stoom". Auf meiner Internet seiten mochte ich einem Blick erschaffen wie ich den Echtdampf Hobby erlebe (sehen sie bitte "My steam efforts im Menü an die linke Seite). Alles fing an mit einem Dampfwalze von Wilesco und dem Hobby wachste. Drei Echtdampf Lokomotiven (
Bison
, ex-Mamod, Regner 99211 und die Aster 8550) einige
Güterwagen
und einem
Bahn
(LGB) rund um der Fischteich situiert ist die Situation am diesem Moment. Zeit dem zeit ich bin Mitglied einer Echtdampf Club, genannt Stoomgroep Zuid (drucken sie die "Stoomgroep Zuid" taste im Menü an die linke Seite), die Sachen beschleunigten sich rasch. Fiele Dampfzug orientierte treffen sind schon besucht (sehe "Train related outings" im Menü an die linke Seite). Auch unsere zwei monatlichen Club Abenden sind eine Fundgrube für Ideen. Die Druck tasten im Linken Seite fuhren sie weiter nach folgende seiten den sie interessieren konnten, Videos, Bildern und links. Weil ich Mitglied bin von einer Dampfgruppe kam ich öfters im Kontakt mit die große Lokomotiven, dies resultierte in die kauf einer 3-1/2 Zoll Maschine die Virginia. Fiel Spaß!

Welcome to my Stomepage. The site's name is a mix of "home" and "stome" and pronounced as such. Stome is not an existing word (yet) but is pronounced the same way as our Dutch word for "steam" written as "stoom". In this site I would like to show how I enjoy our live steam hobby (see "My steam efforts" in the left frame). It all started with a Wilesco steamroller and the hobby expanded. Three live steam locomotives (Bison, ex-Mamod, Regner 99211 and the Aster 8550) some rolling stock and a circuit of track (LGB) around our pond is the status at this moment. When joining a steam society, called Stoomgroep Zuid (see "Stoomgroep Zuid" in the left frame), things accelerated quickly. Many steamtrain related events have been visited (see "Train related outings" in the left frame). Also our bi-monthly club-nights are a good source of inspiration. The buttons to the left also takes you to further pages which might interest you, video clips, pictures and links. Due to my membership of our Steam Society I cam in touch with the larger locomotives, this materialized in the purchase of a gauge 3-1/2 track engine the Virginia. Have fun!

Welkom op mijn Stomepage. Op deze pagina's laat ik wat zien hoe ik mijn stoomhobby beleef (zie "My steam efforts" in het linker frame). Het begon allemaal met een Wilesco stoomwals en de hobby is verder uitgegroeid naar drie live steam locomotieven (
Bison
, ex Mamod,
Regner 99211
en de
Aster 8550
) wat
wagons
en er kwamen
rails
(LGB) rond de tuinvijver. Na lid te worden worden van Stoomgroep Zuid (zie "Stoomgroep Zuid" in het linker frame) is het geheel in een stroomversnelling gekomen. Vele uitstapjes zijn reeds ondernomen (zie "Train related outings" in het linker frame). Ook de clubavonden van SGZ vormen een bron van inspiratie. Via de knoppen in het linker frame kan ook verder gesprongen worden naar andere pagina's. Hierin vindt je zaken zoals video clips, foto's van bijeenkomsten, en links naar interessante homepages. Vanwege mijn lidmaatschap van Stoomgroep Zuid kwam ik ook in aanraking met de grotere locomotieven, dit resulteerde in de aanschaf van een 3-1/2 inch locomotief de Virginia. Veel plezier!